Making space for autism in the classroom: how to provide a safe emotional environment for education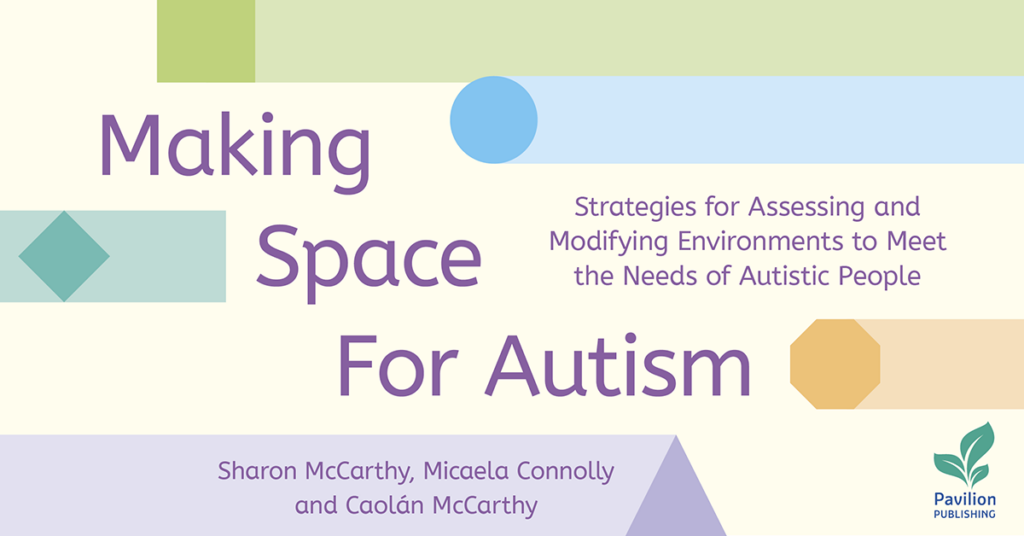 This webinar Sharon McCarthy, Micaela Connolly and Caolán McCarthy for Pavilion Publishing will explore how to provide a safe emotional environment for education — and how educators can provide support for autistic students. Drawing on chapters from their recently published book, Making Space for Autism, the authors will cover how to make educational provisions for the autistic student, and how to make school environments more inclusive.
Speakers:

Sharon McCarthy, Micaela Connolly and Caolán McCarthy
Date:

Tuesday 21st

 November 2023
Time:

6:30 – 7:30PM GMT  (1hour)
Price:

FREE
Description: Historically, there has been an expectation that autistic children and adults should conform their behaviour to social norms, with strategies and interventions centred around navigating spaces and situations with minimal damage. The person-centred environmental assessment and modification programme presented in Making Space for Autism moves away from this, providing information and tools for assessing and reflecting on features of the autistic person's environment to best support their comfort, autonomy and agency.
For: Teachers, parents, students and anyone who works in an educational setting
Attend to learn about:
Making your communication style more accessible
Considering causes of distress and dysregulation and the role of the emotional environment in this
Supporting students to successfully navigate everyday transitions
Understanding the sensory tools that can be utilised
About the Speakers
SharonMcCarthy is an author, course coordinator and lecturer. She delivers autism-specific training in different disability and education settings across Ireland, and in her role as a professional advocate, she ensures the autistic person's 'voice' is always kept central. Sharon is parent to multiply-identified autistic children and acquired her own autism diagnosis in 2020, with an ADHD diagnosis following in 2022.
Micaela Connolly is a Senior Educational and Child Psychologist with 15 years' experience of working on a multidisciplinary team in a specialist autism service. Her work involves assessment; therapeutic interventions; training; developing and implementing programmes to advance understanding and awareness of autism.
Caolán McCarthy is an autistic Speech and Language Therapist. He has spoken at the IASLT Autism and Neurodiversity Special Interest Group annual conference and made contributions to the New National Training Programme for Special Educational Needs Assistants with University College Dublin and National Council for Special Education.
Sign up to the webinar here: